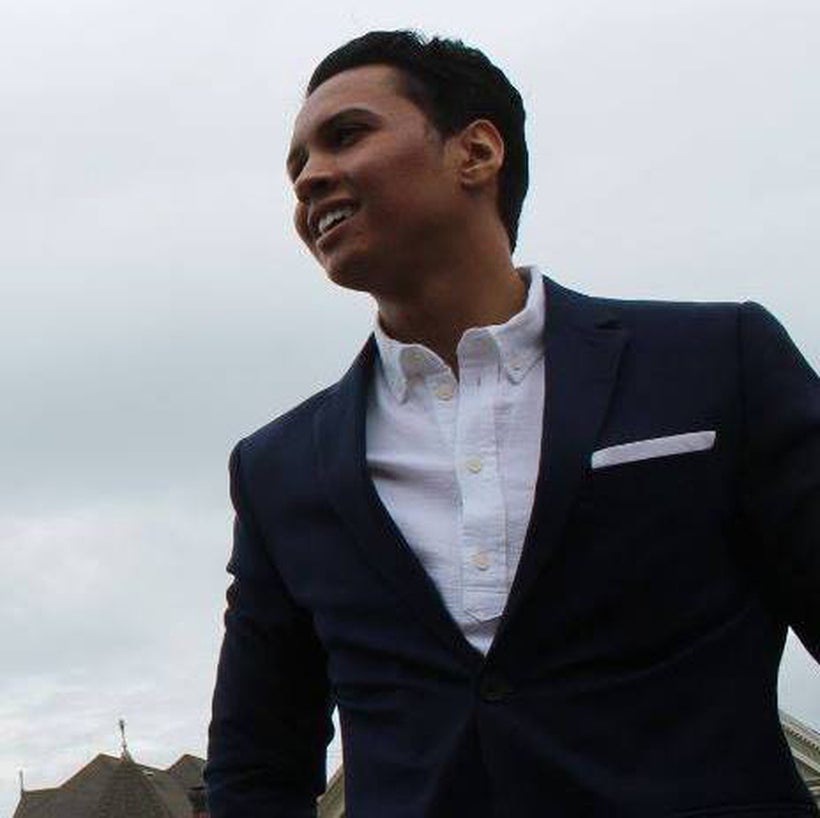 "Walid dropped out of school and started his own solar tech company. He began with $0 (no investors) and grew his company to $10 Million by the age of 23. His company, Dvinci, is currently saving clients an estimated $45M in utilities – while also reducing 8,760 tons/year in CO2 emissions– with a goal of $1 billion in clients' savings by 2019. His mission at Dvinci is to move the world towards its full potential so that we can do more. Through sustainable & cutting-edge technology, our mission is 'to give more life.' – one community at a time."
What's your story?
If you have any knowledge about energy, you know that everyone needs it. It's a privilege that powers our homes, our hospitals, banks, and schools. However, the way we get our energy is outdated and unsustainable. This has created an opportunity: Because they exponentially cut thousands of pounds of CO2, reduce the cost of living, and, as a result, give decision-making power back to communities, renewables are now the mainstream form of energy. Due to this, there has been a "sun rush," the gold rush of the 21st century. Competing companies have entered the industry with "grow-at-all-costs" business models with high-cash-burn, low margins, poor customer experience and operational deficiencies. The approach has inevitably cost these companies their existence, while also generating negative connotation around "going solar." We, at Dvinci, entered the industry with a new turn-key, mission-centric and sustainable approach, which allows us to deliver the highest quality tech at the lowest cost and fastest turnaround to our customers.
Where did the idea for Dvinci come from?
Da Vinci was the theme of last year's Burning Man festival. At this event, there was a moment where I got an intuitive hunch to name our company after him Leonardo Da Vinci. Da Vinci conceptualized concentrated solar in the early 16th century. He is known as one of the most brilliant and diversely talented individuals ever to have lived, "a universal genius." At our core, we strive to embody the soul of Da Vinci. I envisioned us competing with Tesla very early on, so "Dvinci" was, even more, suiting for that purpose.
What was the first step you decided to take after you had the idea?
I believe in doing business with people I want to do life with. Since I foresaw the mission that we were going to take on at Dvinci to be one that would take us centuries to fulfill, I knew I needed to reach out to friends that I could trust, and that would be committed to the long game. That was when I partnered up with Ahmad Hodroj, Nicholas Nedzweckas, OussamaHamouti, and Christian Vegas Hampton. I'm extremely humbled and grateful for their commitment to our mission, very early on, when all we had was an idea.
We soon realized that since new regulations in the solar space have decreased bank lending significantly, there was a need for someone that could fill the gap. With our price-discipline, we created partnerships with every bank in the solar industry to fill this need. This gave us the flexibility and accessibility to unique, low-cost financing options so that we could empower more people through solar. We were given preferred pricing across the board for all our equipment and technologies, which we have been able to pass on to our customers as savings.
We then realized that to efficiently navigate through the installation challenges that were unique to specific areas and climates; we needed to partner with reliable regional installation partners that had first-hand knowledge of the local markets. We had rigorous standards that our partners are necessary to meet to ensure the best service we promised our customers. This ultimately gave us the local leverage, operational speed and boutique-style structure that created the highest opportunity for us to align with our customers' needs.
In developing these partnerships, we were able to focus on controlling the following variables for our customers: location (availability), technology (quality), time (speed), cost (savings), & customer experience (personalization). Thus, we were able to structure our business model in a way we can deliver for our customers the highest quality product, lowest price, fastest turn-around and most tailored experience in the solar industry.
What's the biggest mistake you've made and what did you learn from it?
The most prominent mistake I made was not thinking big enough early on. I was presented with opportunities very early on in my solar career that I said yes to because of my hunger for success. I'm exceptionally very grateful for them. However, I was short-sighted by entering some partnerships without looking at the bigger picture and not having a clear sight of how big of an opportunity there was in the renewable energy space. I was merely focused on the California and Massachusetts residential market – which are indeed big markets. But there was more that could be done, that wasn't getting done.
For instance, out of the 7 billion people in the world, 1.3 billion have no access to electricity. Less than 100 countries have access to a reliable source of energy. This opportunity was much bigger than just the residential market. This was a global matter. Despite so many companies attacking this issue opportunity with money and personal gain in mind, at Dvinci, we developed and had committed to a mission-centric, community-building approach that set out to economically empower people globally with sustainable sources of energy. Which ultimately means more education, security, control, and more life for more people.
Through this experience, I've conditioned myself always to think bigger. More importantly, it taught me ever to keep the mission more significant than the money.
Tell me about an accomplishment that shaped your career?
An accomplishment that shaped my career was when I was 16, and I was recognized by Nestle for my philanthropic work. I was doing a non-profit job in Morocco with disabled children at that time in the form of donating money for handicap supplies. It was more of an impactful experience because I realized how much it meant to others for me to give my time and attention to them with the intention to solely help. I found such deep fulfillment out of it. I still remember that point in time when I made an unwavering decision always to make a source of what I do – to give. This is what influenced me to create the Dvinci Foundation while founding Dvinci Energy because I believed if we kept ourselves mission-centric at Dvinci, we could stand a chance at making a long-term impact.
What's the best advice you've ever received?
"You are paid in direct proportion to the difficulty of problems you solve." The reason I see this as the best advice I ever received is because it shifted my focus from thinking about personal gain to thinking about solving problems and finding what I can personally do of value to others. The "money" will come by default. This reminds me of 2 of my favorite quotes: "Don't ask what your country might do for you, but in return what you can do for your country" by John F. Kennedy and "The greatest threat to our planet is the belief that someone else will save it" by Robert Swan. For us to solve some of the world's most significant and pressing problems, we need to come from a place of selflessness, which is what I hope someone readers can get from this. Focus on helping, providing value, solving problems so we can move our world towards its full potential – because if we don't take it upon ourselves, who will?