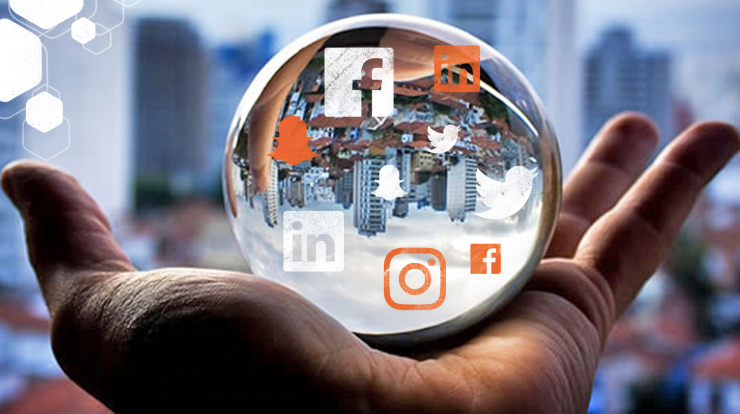 Social media platforms that were previously only used by individuals for their personal communications are now used on a large scale by companies as well. Business organizations have been using social media as a tool for increasing brand awareness and leveraging this into the first three of their four-step marketing funnels (acquisition, retention, and activation). Generally speaking, it is expected that the time spent on social platforms will drastically increase in the following years and that, of course, will generate a more considerable attention to social media marketing.
According to Kapil Mudholkar, director of Reeixit Media, "People would rather engage with a brand on social media than visit a physical location, and for all of us it's somewhat important that companies they purchase from have a strong social media presence."
From lead generation to live streaming and chatbots, let's have a look at the most important Social Media predictions for 2018.
Social Media Will Be Used For Lead Generation
According to a study, "10 years ago, out of all the people living in the United States, only 7% used one or more social networking sites. Today, that figure has increased to 65%. Out of all those people who use the internet, a massive majority of 76% belongs to American social media users."
So, with almost everyone using social media, networking on these platforms has become a significant market target. And that is why, in 2018, we expect all organizations to head towards social media marketing for lead generation.
B2B companies will be likely looking at platforms such as LinkedIn or G+, while B2C groups will be heading towards platforms such as Facebook and Instagram. Also, compared to other traditional lead generation platforms, social media offers the possibility of embracing personalization.
Receiving personalized recommendations based on your shopping history as well as emails with customized offers is an excellent way for companies to increase conversions. Personalization, after having proved its marketing effectiveness, is now not only used by B2C retailers but is getting very common in the B2B industry as well.
Video Marketing Will Explode
With the web providing so much content, people have started spending more time looking at animations and videos rather than spending time reading long articles. This is why video marketing offers a better response to companies looking into this different habit. B2B marketers will increase the number of content videos to educate and engage their target audiences, and live streaming will be heavily used to demonstrate services or products.
In 2018, likely most of the companies will be moving towards YouTube for handling their video marketing campaigns. Facebook will be enhancing its video marketing services to increase their market share in this area, and sites like Twitter and Instagram will increase the duration of videos that can be shared on the platform.
Also, with Augmented Reality (AR) and Virtual Reality (VR) developing, there are chances that companies will be using these technologies in their video marketing campaigns. Snapchat, for instance, has already introduced AR filters.
Social Media Will Take Over TV
When it comes to advertising, businesses in 2017 have used both social media and TV ads. However, in 2018, it will likely be that advertisement campaigns will use social media as their primary channels. That makes sense; why would you watch TV when you can get most of your entrainment from platforms such as YouTube and Netflix? Companies will spend more on online marketing rather than traditional advertising and traditional channels, with a close eye to raising online brand awareness.
Chatbots Will Skyrocket
In 2017 people have reported mixed feelings of love and hate about chatbots. From one side, many have appreciated the instantaneous response rate, but from another side, others have looked at those technologies as immature. That is the case for instance of Twitter teaching Microsoft's AI chatbot to be a racist in a few hours, with similar other problems also experienced by Facebook. However, with engineers making significant improvements in artificial intelligence, we should see chatbots giving more useful, genuine and effective responses to individuals and a higher utilization of this technology.